In a city where violence is commonplace and local people – young Arab men in particular – are viewed with suspicion by the authorities, Genevieve Belmaker finds one group using parkour to not only improve their fitness, but find a sense of freedom
In the shadows of a city with a tense and violent history of thousands of years, some young residents have turned the ancient streets of Jerusalem into their playground. Over the past five years, young Arab boys and men ranging in age from about 11 to 23 have taken up the sport known as parkour.
Parkour is the discipline of using one's body and existing structures to move quickly and efficiently in any environment using only the body. It employs the methods of running, jumping, flipping and quadrupedal movements. Originating in France in the 1980s, it has since become popular within Israel, the West Bank and Gaza.
In Jerusalem the sport often comes with the added danger of police who are on heightened alert over the activities of young Arab men. That's not without reason: since September 2015 there were dozens of knife attacks perpetrated by Arabs in Israel, including many in Jerusalem. This doesn't change the fact that the vast majority of the more than 100,000 Arab residents of Israel's largest city, Jerusalem, live in peace.
Such simple joy is hard to find anywhere in the world, but here it is especially captivating
One of Jerusalem's loosely organised parkour groups is led by Oday Abu Snina, a 16-year-old city resident. There are dozens of parkour enthusiasts in the city, all male, who practice to different skill levels.
The story of parkour is unique among the stories that a foreign correspondent might encounter. There is little, if any, of the usual politics of the conflict involved. It's a special challenge to keep pace with teenage boys who practice acrobatics in their spare time and can slip in and out of the crevices of the city in the blink of an eye. Most of all, to watch them in action is pure joy.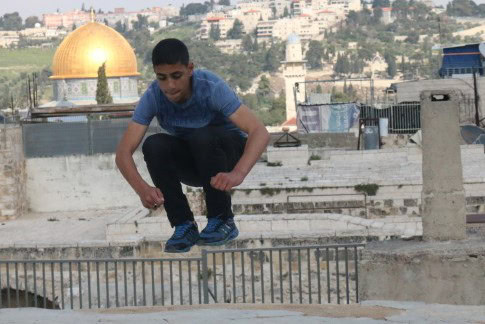 The world around disappears. Time stops. There is nothing but watching, breathless, as they make one dangerous jump after another. Every time they land on their feet or crash but avoid injury, it is cause for celebration. Such simple joy is hard to find anywhere in the world, but here it is especially captivating.
Despite the fact that he fits the profile for the most oft-harassed and suspected cross-section of his city's population, Snina is undeterred from his beloved sport. He is always smiling, always positive and brimming with health and energy.
It's difficult not to connect parkour to his upbeat approach to life.
"Parkour is freedom," he says as he was practices moves with his friends in Jerusalem's Old City. "It is part of our life."
Since Snina has been doing parkour for about two years, he is usually the most experienced among his group and ends up playing the role of coach. They come from some of the roughest neighbourhoods in the city: Silwan, Shuafat refugee camp, Issawiya and Abu Tor. They face daily scrutiny and sometimes harassment by police as they go about their lives.
Mohammed Sarhan is a 16-year-old resident of Shuafat refugee camp. The neighbourhood is just north of Jerusalem and is notorious for the lack of municipal control by either the Palestinian authorities or Jerusalem. By all accounts, the camp of 80,000 people would be a difficult place to live as a teenage Arab boy, and has become even more so over the past couple of years with lone-wolf acts of violence throughout Jerusalem.
There is nothing but watching, breathless, as they make one dangerous jump after another
Sarhan says he is confronted with these harsh realities every day.
"This morning some police stopped me," he says, noting that he was on his way to school. "They said 'open your bag, empty your pockets.'"
Sarhan says he sees the police hit and harass people every day and that he feels trapped.
"This is my motherland, but I feel like I'm in jail," he says.
But rather than take to the streets and throw stones at police – as so often happens in this part of the world – Sarhan took up parkour. He's been practising with Snina and their friends for a few months now. When he practices running, jumping, flipping off walls and flying through the air, it makes the tensions on the ground dissolve.
When he does parkour he says he feels like "a bird in the sky."
Though parkour practitioners in Jerusalem use various locations to practice, the Old City is considered a prime location. That 500-year-old Ottoman walls of earthen-coloured stone surround a labyrinth of low-rise buildings with flat rooftops and endless stone structures of varying shapes and sizes that are perfect for propelling into the air. Curious bystanders often stop to watch, but they are typically left alone.
The Old City, though a major tourist destination as it is full of historical sites, has also been the site of much violence. Tensions often run higher there than anywhere else in the city, and in the past year numerous young Arab men have been shot dead just outside the gates by police.
Yet Snina and his friends persist. Even if the police sometimes grumble or point a gun at them just for flipping off of a wall.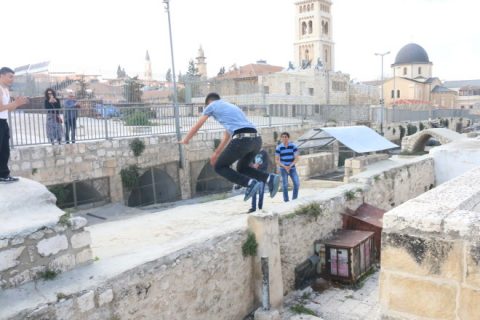 For these boys, parkour is also a physical fitness regimen. Snina helps the other boys in his group, some as young as 13, as they practice various moves. He shows them how to warm up, encourages them to try new and bolder moves, and spots the less experienced guys so they won't fall. He even promotes healthy habits.
"Parkour prevents us from smoking," he says. "Smoking is dangerous."
His positive attitude is enough to make any parent, teacher or coach proud. Yet Snina isn't above making wry jokes about the reality he lives in.
"If some police followed me, I can get away," he laughs, recounting a day last year when he noticed police observing him. Rather than stop and engage, he simply scaled a high fence using parkour moves. He said the police were so confused they just stood on the other side and watched him walk away.
The tropes applied to young Arab men in Jerusalem are so strong, in fact, that Snina and his fellow parkour enthusiasts are convinced they are doing something illegal by flipping and jumping in the park.
"The police told us we are not allowed to do this," says Sarhan.
Abdallah Abusara, 16, is working on perfecting handstands atop walls and large rocks. For him, the ability to practice parkour freely (even though he's been told he can be arrested for it) is all the hope he needs for the future.
"It's justice," he says.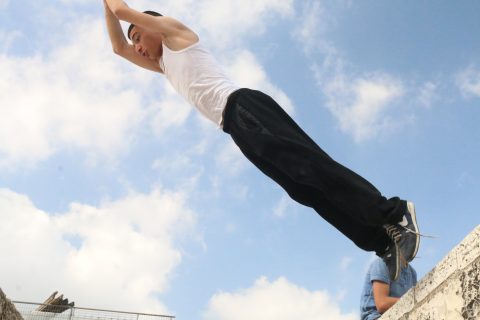 First published by Ivoh.
Photography by Genevieve Belmaker