People are being urged to buy secondhand clothes only during September, in a campaign fronted by Michaela Coel
What began as a stream has become a wave: in greater and greater numbers, shoppers are demanding more sustainable and ethical clothing. Before the coronavirus pandemic, charity shop sales had increased four-fold from £133m to £732m in 20 years, and secondhand or vintage fashion is the largest and fastest-growing category on eBay.
Sales in this category were more than 200 times in January to July this year what they were during the same period in 2018. Resale site Depop also reports record sales in the UK, US and Australia, reportedly signing up 20 new users every minute during July. But fast fashion is, for many, an irresistible combination of style and affordability. And the UK's 11,000 charity shops face a struggle to survive as they reopen to a challenging post-lockdown climate.
Enter the Bafta-award-winning actor, director, screenwriter, producer, playwright and poet Michaela Coel, who is the face of Oxfam's #SecondHandSeptember campaign this year. She is encouraging people to buy only secondhand clothes during the month, and to share their pledge on social media using #SecondHandSeptember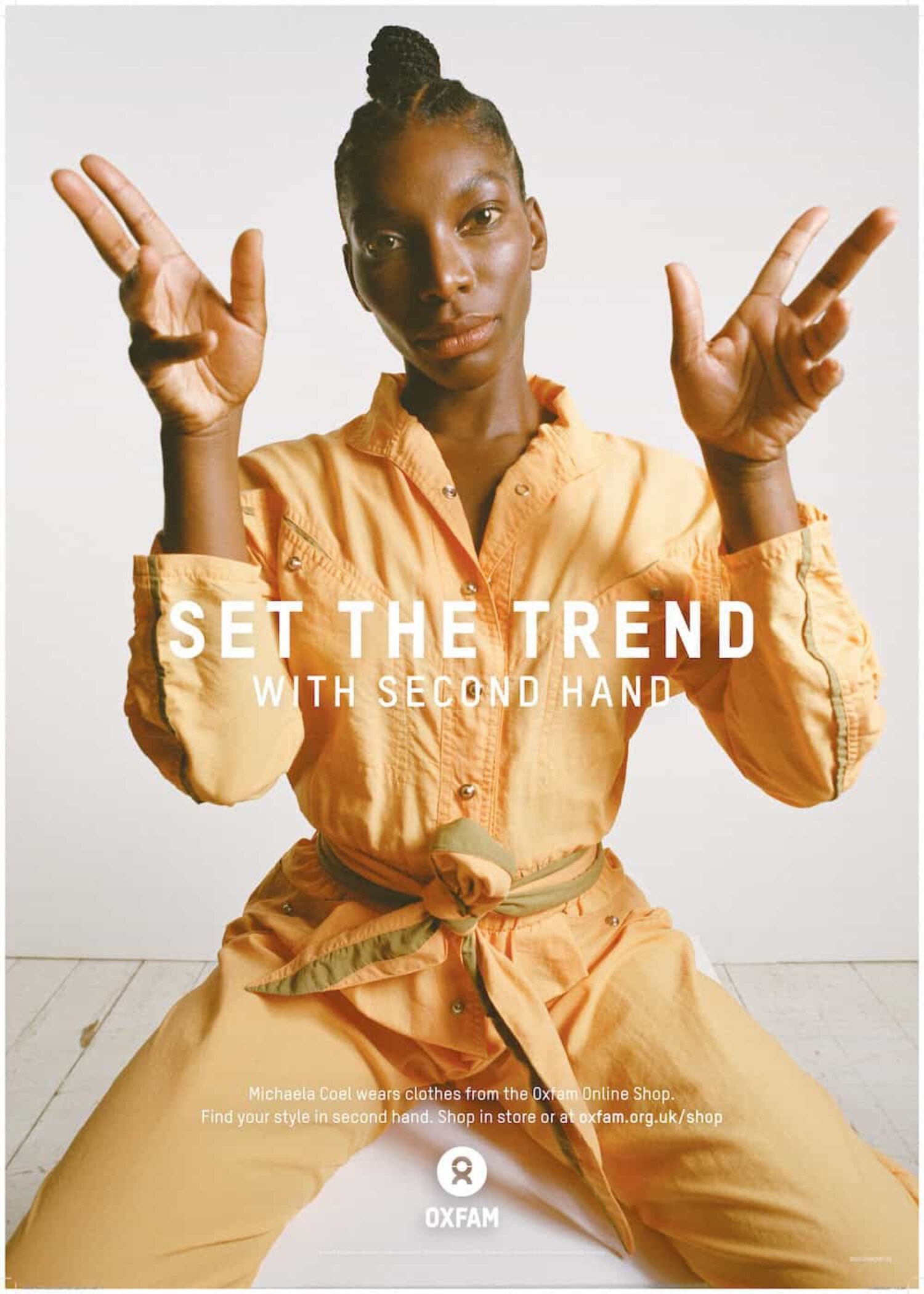 Coel, who is the star and creator of BBC drama I May Destroy You, said: "When presented with the data from Oxfam on the impact of fast fashion I felt compelled to add my voice to this cause; I hope it raises awareness and encourages us to reflect on our buying habits and to consider how small changes can have a huge impact on the environment – and in turn the fight against poverty."
Coel will feature in the windows of more than 500 Oxfam shops, showcasing clothing from Oxfam's online shop, and the clothes she is modelling will be available to buy from Oxfam's pop-up shop in Selfridges London Designer Galleries for four weeks from 7 September.
Proceeds will go towards Oxfam's mission to beat poverty around the world. Approximately £29m is raised each year from selling clothing in Oxfam shops, according to the charity. Danny Sriskandarajah, chief executive of Oxfam GB, said: "The pandemic poses huge challenges, but it also creates an opportunity to reimagine our economies and how we live, to make lasting changes that set us on track to a fairer, healthier world.
The pandemic creates an opportunity to reimagine our economies and how we live, to make lasting changes that set us on track to a fairer, healthier world
"Choosing secondhand is one way that we can all play a part in shifting to more sustainable consumption and helping to build back better from the virus. By joining Oxfam's Second Hand September movement, collectively we can send a message to retailers asking them to change their business models to better protect the people who make our clothes and the planet we all share."
The coronavirus pandemic has severely impacted income in the charity sector; during lockdown Oxfam lost £5m a month. Sriskandarajah added: "The UK has around 11,000 charity shops that are a core feature of high streets up and down the country – as they reopen after lockdown, they need support now more than ever to raise funds for a wide range of important causes."
Main image: section from a poster for Oxfam's Second Hand September, by Tom Craig/Oxfam