Accomplished yet accessible, Alexander Chapman Campbell's solo piano music is catching the ears of his classical critics as much as it is his peers online. Positive News sits down with the 27-year-old Scottish musician at the start of his first UK tour, to find out about the man behind the keys
Having declined a place to study music at university, Chapman Campbell chose instead to explore the tunes that come naturally to him. Singer Aled Jones and Classic FM's John Brunning – who described Campbell's music as "refreshingly original and unpretentious" – are among those praising his talent. The pianist's flowing, melodic music is equally at home in commuters' headphones as it is in classical concert halls. But for his second album, Portraits of Earth, it was the Scottish Highlands where he found inspiration.

You recorded in a converted byre (cowshed) on the west coast of Scotland, overlooking the Atlantic. Did the location affect the music?
Crear seemed like a mythical place as my sound engineer told me about it over the phone: "Solitary, quiet, with a beautiful piano, and glass walls looking out across ocean and mountains". It's hard to say how it influenced the music, but I know it did. Listening back to the recordings I can almost hear the stillness, see the changing light across the sea and feel the gentle wind that from time to time tugged at the building. In fact you can hear the tin roof creaking behind a couple of the tracks.

Your album has been five years in the making, but was recorded one morning in a single take. How did that happen?
Staying relaxed is my biggest challenge as a musician. Somehow, on the last day of recording I entered the same relaxed creative place I inhabit when I'm at home, without the pressure of a recording session. In such moments the music seems to take on its own life: it flows and creates, and I become a part of that process. It's a beautiful experience. It isn't something that comes through effort; it has to be allowed, although I sometimes find myself straining to allow it. What helps me is to realise that my conscious mind is just a part of a much wider process and my little composer/ performer self, the bit that I'm aware of, doesn't have to do all the work.
The music seems to take on its own life: it flows and creates, and I become part of the process

Why did you turn down a place at university?
I'd written lots of music and felt confident in pursuing composing, but the truth is I also wanted to be outside an academic system, to find my own way personally and musically. I wanted to spend time composing while living around like-minded people and exploring that, without my music being judged.

You have some interesting venues lined up for your tour. Where do you like to perform?
I like smaller venues, even people's homes. Large places are good if the atmosphere is right. For this tour I'm excited about the cathedrals and listed buildings. There's something about the architecture that makes a difference. If care and skill has gone into creating the space then I tend to play better. I seek out places that were made to be beautiful.

What was behind the album and track titles?
It's about honouring our living world and hopefully, playing my part in raising awareness of the wonder that surrounds us. I wrote Isle Of The West, for example, the evening I returned from some days spent on the Scottish island of Iona. My mind and body were full of the memories of the place and it all seemed to flow from my hands. Whether related to a personal experience or not, for me composing music is reaching for something beautiful and beyond the ordinary.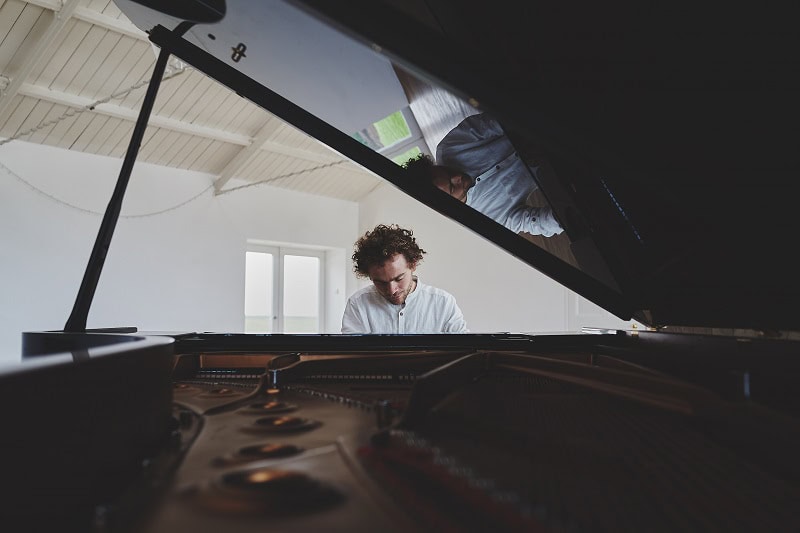 Photography by Hugh Carswell
Portraits of Earth is out now. Alexander Chapman Campbell is touring throughout 2016.