Sunrise festival hopes to inspire a shift in consciousness to enable a more sustainable world to be created
Having announced the line-up for this year's Sunrise Celebration festival, its organisers have revealed that the theme for the event will be 'Another world is possible.'
Taking place on of the solstice weekend of 21-24 June 2012, near Bruton, Somerset, the event hopes to fill the gap left by Glastonbury festival, which is taking a fallow year, and take up the mantle as a focal point for a shift in consciousness that was seeded in the 60s.
Festival-goers arriving at Sunrise are promised  an experience like that of stepping into a utopian parallel world, with a carnival atmosphere, circus and theatre performances, cabarets, visionary artists and fancy dress processions. Musical highlights on the line-up include: The Imagined Village, The Egg, Gaudi, Benji Vaughan, Mungo's Hifi, Warsaw Village Band and Banco de Gaia, as well as many other acts across a wide range of genres, from psy-trance, dubstep and bhangra, to electro-swing, balkan gypsy music and the fringe sounds of the future yet to be discovered.
But as well as having a wildly good time, festival-goers also have the chance to learn about creating a more sustainable lifestyle. Billed as the UK's leading sustainable festival, Sunrise is powered on 100% solar energy and was the first festival to have provided site-wide compost toilets and an organic, local food and drinks policy.
A wealth of workshops, talks and performances will be available across the weekend, from leading eco-spiritual pioneers and activists, including the celebrated permaculturalist Patrick Whitefield, sufi whirling maestro Sheikh Ahmad Dede and legendary peaceful freedom fighters, The Lani Singers from West Papua.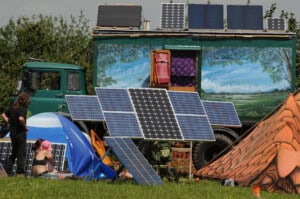 The festival's Village Green area is being set up as a working template for sustainable living that will offer a platform for learning about activities such as eco-building and green crafts. The Serenity Field meanwhile, has been constructed in honour of the solstice and will feature an astrologically-aligned stone circle.
The event also promises to be a safe and nurturing environment for families, offering enticing activities for all age groups and this year there is even a tent for pregnant mums and natural birthing.
"Sunrise is an invitation to experience firsthand that another world is possible, and to return home empowered to be that change in the world," says Daniel Hurring, co-organiser of Sunrise.
Walking the talk as a business
Sunrise is run by a community interest company (CIC), which accounts for the cost and benefit of its activities to society and the environment, and it commits 65% of profits to benefitting its community. Behind the festival is also a charity, Natural Communities Foundation, which works to support harmonious living on the planet. The charity aims to make every aspect of the planning and delivery of the event as ethical and environmentally friendly as possible.
"We believe we have the most comprehensive green policy and strategy of all UK music festivals," said Sophie Docker, festival co-organiser. "We aim to keep Sunrise in the front line of the debate."
One of the festival's major objectives for 2012 is to increase the number of people travelling to the site by bicycle and public transport. Shuttle buses are being provided to and from the local train station, while a 'reuse camp' this year will offer tents left at Glastonbury 2011 to cyclists wanting to travel to Sunrise with less gear.
Other new green initiatives include: reusable pint mugs, disposable nappy recycling, a campsite waste station from Upcycle where you can swap your rubbish for recycled goods, and having organic goods delivered to the festival by horse drawn carts. The Sunrise community woodland, first established at the festival site last year, will also continue to be planted.