A new portrait exhibition – To See or Not to See? – celebrates the lives of some of the capital's less visible workers
Inviting people to come face-to-face with the cleaners of London, the To See or Not to See? exhibition is formed of photographic portraits of 11 of the capital's cleaners.
Organised by ethical cleaning company Clean for Good, it aims to tell the stories of some of London's hardest working 'hidden workers' and celebrate their contribution to city life.
The exhibition is on now at St Sepulchre-without-Newgate church in Holborn, the City of London, and runs there until 31 August. It is free for members of the public to enter on days when the church is open: Monday-Thursday, 11am-2pm. The exhibition will tour other venues in London from September. Photographer Rosie Wedderburn took the portraits.
Clean for Good was established in 2017 to provide a fairer deal for cleaners and now has 40 employees. Managing director Tim Thorlby explained his vision to change how cleaning is done across London and the UK: the sector is infamous for low pay and poor conditions.
"We take the Fair Trade principle and apply it to the UK," he said. "We are a Living Wage Employer and directly employ all our cleaners, giving them full employment benefits – and all above statutory minimums."
The business also aims to operate to high environmental standards, using eco-friendly products.
In photos: London's hard-working cleaners
Elizabeth
28, Tooting Bec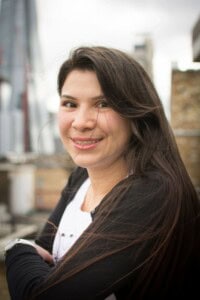 Elizabeth has been salsa dancing since she was a little girl and enjoys being active. She is not someone who likes to sit still. At school, she played in the volleyball and football teams and now she cycles and jogs regularly to keep fit. She makes her friends laugh. She loves travelling, although her favourite place is probably still Santa Marta – a beach resort in Colombia that she knows and loves from childhood.
Mario
28, Walworth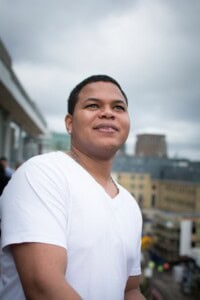 Mario is working hard and learning English so that one day he can return home to the Dominican Republic and buy his own home. In the meantime, he enjoys playing basketball and following the Chicago Bulls when he's not working. He's hoping to travel to Miami with his young son later this year.
Ivonne
55, West Ham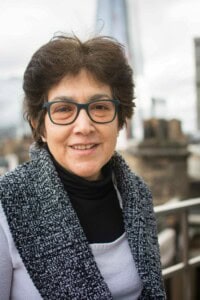 Ivonne is originally from the city of Loja in Ecuador but has travelled far and wide and lived in various countries. One of her favourite experiences was living in, and exploring, Israel whilst she worked in caring for elderly people in Tel Aviv. She also once worked in a cheese factory in France, which she enjoyed rather less. When she is not working Ivonne enjoys reading, especially Latin American history. For anyone interested in Ecuadorian history, she recommends reading Benjamin Carrion.
Maria
50, Limehouse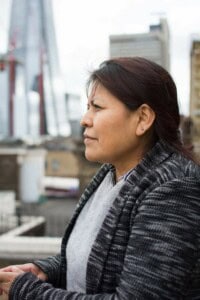 Maria is one of the few Londoners who speaks Quechua as her first language – an indigenous language of South America, originally spoken by the Inca peoples. Born in Ecuador, she lived for nearly 30 years in Portugal, where her two children were born and grew up. When the family's chain of shops suffered in the economic crisis, they moved to the UK. She is currently learning English, not least so she can pass her driving test and drive again, something she misses. Her top food tip is to try Bitoque, a classic Portuguese dish usually involving a steak, fried egg and chips!
Birute
62, Plaistow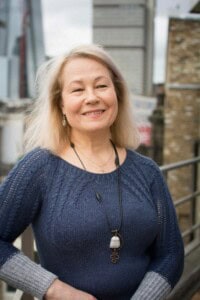 Birute is a relatively recent arrival in London. Having worked as a nurse in Lithuania for 40 years, she has moved to the UK with her husband, who has relocated for work. She is working as a cleaner while she learns English and finds her feet. She enjoys different kinds of music and used to dance regularly. For anyone wanting to explore Lithuanian folk music she recommends her favourite singer, Virgis Stakenas. Currently, her creativity shows itself through her knitting and cooking. A recommended dish? "Cold beetroot soup".
Jorge
41, Brixton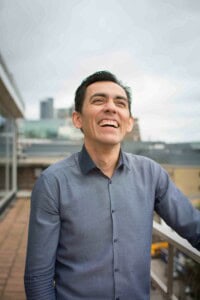 "The most important thing for me is my family." Jorge's wife and two grown-up children live back home in Colombia. He has been in the UK for seven years and usually sees them twice a year. Jorge is working hard to earn and save money, so that they can buy their first house. In addition to his two jobs, he is training to be an accountant in the evenings. (When does he sleep?) Cooking is a hobby; he likes the idea of being a chef one day – although for now, he's sticking with accountancy. How would his friends describe him? "I try to be kind."
Dumitrita
22, Ilford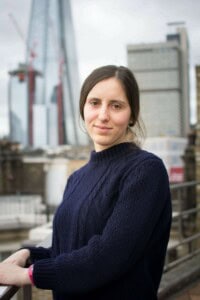 Dumitrita is a brand-new arrival to London from Moldova and is learning a lot, pretty fast, about her adopted home. Has anything surprised you here? She laughs, "everything is a surprise in London!" She loves connecting with new people and learning new skills. She is trying to absorb as much as she can from living in the city. One day, if she can, she'd like to travel more and see as much of the world as she can. What can she tell us about Moldova? "Almost everyone makes their own homemade wine. You should always try this if you go there."
Florentina
38, Stratford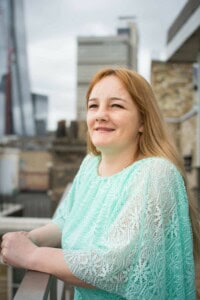 Originally from Romania, Florentina is quite clear that "London is my home now". She loves spending time in the park near her home in east London and relaxing with friends, when she can. Her favourite dishes in the kitchen usually involve pasta, although she sometimes cooks more traditional Romanian meals, especially Sarmale (stuffed cabbage leaves) served with rice. Recently she's started to read up on business management and is thinking about starting a course on this. "My friends say I'm funny," she says. "Sometimes."
Rosi
40, Forest Gate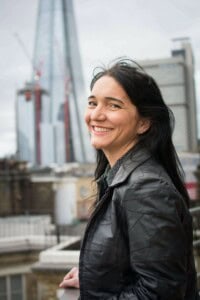 Rosi is part Italian and part Brazilian and has lived in both countries. When growing up in Brazil, she used to practice jiu-jitsu regularly and take part in tournaments, something she misses. She would like to start this again. They didn't live in Italy for long: "It was beautiful, but there was no work there. Maybe one day I will retire there for a nice, quiet life!" Life is certainly not quiet for now with a young daughter to look after – "she would probably say I'm a bit crazy, but in a fun way!" Rosi is famous for her tiramisu.
Washington
49, Cricklewood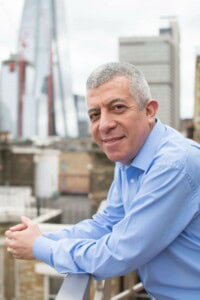 "My inspiration every day is listening to music, whatever I'm doing." When he first moved to the UK from Ecuador, Washington played in a band, but he now prefers to listen to music, rather than make it. He loves travelling and visiting new places and would like to travel more. He enjoys working in the cleaning sector too. "My guide is my dad. He told me 'whatever you do with love, you will always do it well.'" Washington is one of Clean for Good's cleaning managers.
Regina
59, Barking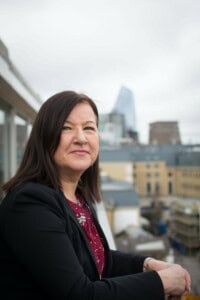 Regina moved to the UK from Lithuania some years ago. When not working she loves being outside and gardening on her allotment. "I adore mother nature. I love to see the plants growing." Regina also enjoys travelling. "I think the holiday always starts in the airport!" The joy of travelling includes sitting upstairs on London's double-decker buses too –  "you can see the city better and new places to visit". Regina is one of Clean for Good's cleaning managers.
Photography by Rosie Wedderburn / Clean for Good