Contact lens wearers in the UK can make use of a free recycling scheme from this week
Launched this week, a UK contact lens recycling scheme will allow people to recycle their lenses for free for the first time. There are already 650 public access points nationwide – 615 Boots Opticians branches as well as some independent optician stores – where members of the public can drop off used contact lenses of any brand, contact lens 'blister' packaging and foil lids.
The programme aims to reduce plastic waste in landfills and waterways by providing a simple and practical alternative for the UK's 3.7 million contact wearers, including the 20 per cent of wearers who report that they dispose of their lenses by flushing them down the toilet or the sink.
The scheme will see the recycled contact lenses, blister and foil packaging turned into new products such as outdoor furniture and plastic 'lumber'.
The scheme is a collaboration between Johnson & Johnson Vision and recycling giant TerraCycle. Johnson & Johnson's research showed that 39 per cent of contact lens wearers are not sure if they can recycle their lenses. "In reality, while not impossible, recycling contact lenses is challenging, where consumers must proactively seek out a paid-for recycling partner – that is until today," said a company spokesperson.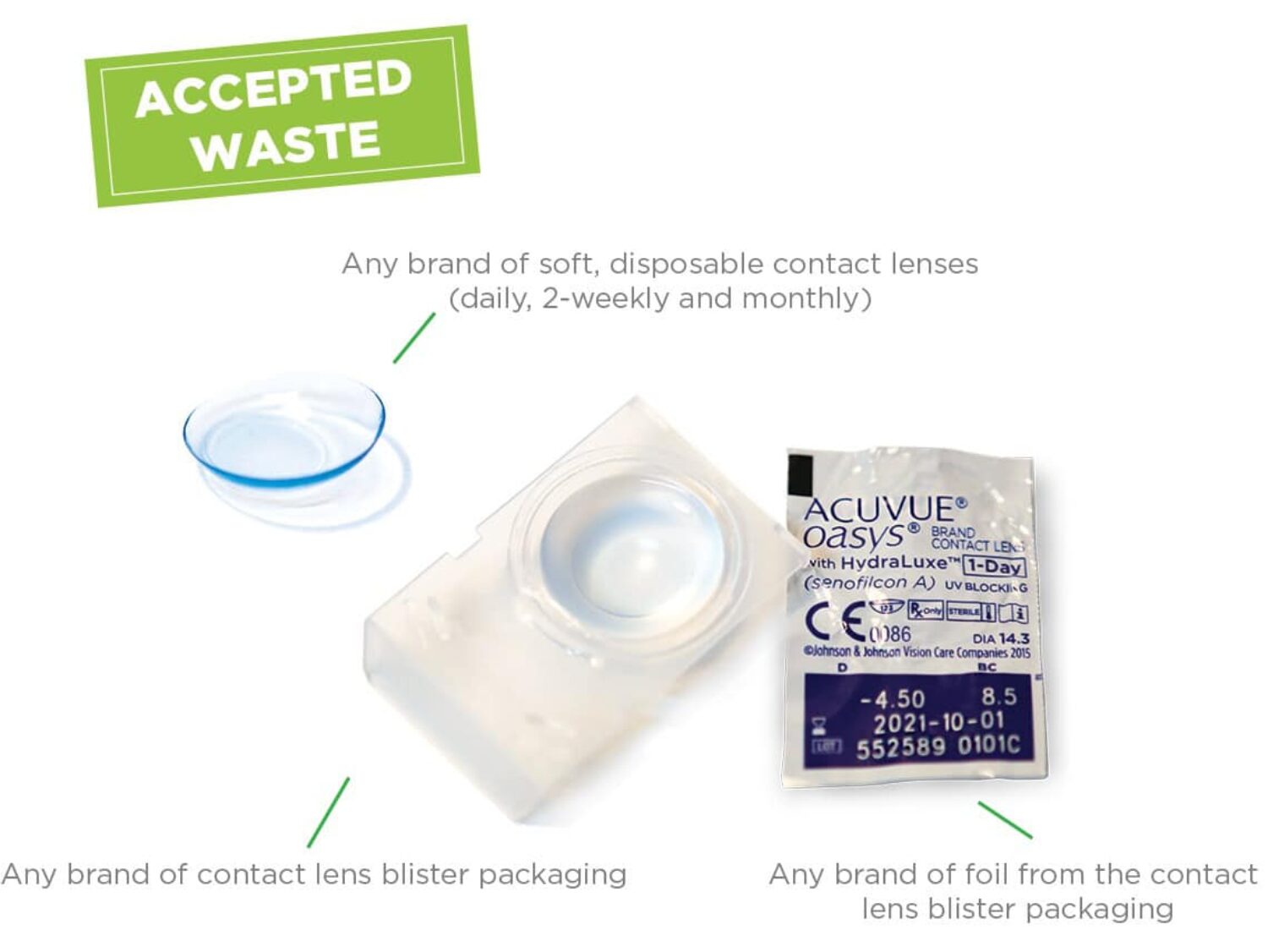 "Seventy seven per cent of British contact lens wearers said they would recycle their contact lenses if they could and we share their interest in reducing the amount of plastics in the environment," added Sandra Rasche from Johnson & Johnson. "As a business, we are committed to doing our part to combat climate change, protect our planet's natural resources and reduce waste, and this new programme represents the next step in our sustainability commitment."
Seventy seven per cent of British contact lens wearers said they would recycle their contact lenses if they could
Consumers will have the option of either having their contact lens material collected or leaving it at a network of recycling bins at public drop-off locations at optical stores across the UK. The recycling partnership with Boots Opticians and a number of independent stores, aims over time to provide more than 1,000 public UK drop-off recycling locations.
See ACUVUE and TerraCycle's websites for details about your nearest public drop-off location points or to recycle from home via courier collection.
Featured image: Patrick Brinksma