The US Army Corps of Engineers announced at the weekend that it would not grant a permit for the Dakota Access pipeline to drill under the Missouri river, a victory for Native American people and for peaceful protest
This weekend saw a long-awaited victory for Standing Rock and those protesting in solidarity against the Dakota Access pipeline. The US Army Corps of Engineers announced that it would not authorise the final section of the pipeline in order to allow alternative routes to be considered. The decision has been greeted as a win for North Dakota's Standing Rock Sioux Tribe and, more widely, a nod to the power of non-violent protest.
Two years ago, news of plans for the pipeline reached those at the Standing Rock reserve. The tribe resisted the proposals: the pipeline would cross near sacred territory, carrying an average of 500,000 barrels of oil each day beneath the reserve. They also feared it could contaminate their drinking water.
But the pipeline seemed an unstoppable force, driven by the Dakota Access Pipeline company and backed by Energy Transfer Partners (ETP), international banks and other rich stakeholders. As the months went by, the Sioux were joined by members of other indigenous tribes and increasingly by protesters from around the world. Among the dozens of other Native American tribes to offer support, some had previously been estranged from or enemies of the Sioux for several generations.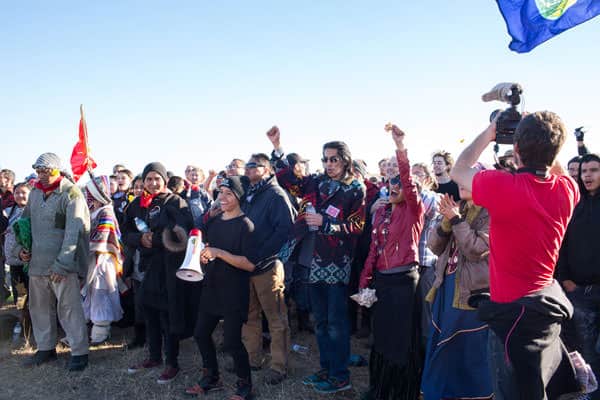 Their campaign was decisively nonviolent. Before the announcement was made, this weekend, thousands of US veterans stood in solidarity at Standing Rock, acting as human shields between protesters and police.
Jo-Ellen Darcy, the army's assistant secretary for civil works, said she had based her decision not to grant the permit on a need to explore alternate routes for the pipeline crossing. "Although we have had continuing discussion and exchanges of new information with the Standing Rock Sioux and Dakota Access, it's clear that there's more work to do," Darcy said in a statement. "The best way to complete that work responsibly and expeditiously is to explore alternate routes for the pipeline crossing."
The news has been greeted with cautious celebration. "We don't often get these victories without bloodshed," Richard Gonzalez, an indigenous veteran, told Mic News. "We demonstrated to the world that yes, there is a way."
Mark Trahant, a journalist who regularly covers Native American matters, described it as a "bright moment in what has been a dark year for civil rights movements and people of colour across the world".
This is a bright moment in what has been a dark year for civil rights movements and people of colour across the world
"Isolationist movements like Brexit, the election of Donald Trump, and the resurgence of white nationalism in the US have put the sovereignty and safety of refugees and indigenous people around the world in jeopardy. The Standing Rock resistance, for many progressives, represents a tangible victory at a time when protest has seemed ineffective."
But the victory has been accompanied by a note of caution. Concerns have been raised that the decision could also be appealed and reversed. With such weighty commercial interests at stake, the possibility of the pipeline being defeated for good seems slight, some say. And it is just one of many similar battles taking place around the world.
"Writ large, the situation at Standing Rock is the situation of our whole planet: everywhere," wrote US author Charles Eisenstein. "Dominating forces seek to exploit what remains of the treasures of earth and sea. They cannot be defeated by force. We must instead invite a change of heart by being in a place of heartfulness ourselves – of courage, empathy, and compassion.
"If the Water Protectors at Standing Rock can stay strong in that invitation, they will demonstrate an unstoppable power and win a miraculous victory, inspiring the rest of us to follow their example."
Images: Revolution Messaging
---
Help Positive News survive
The whole media industry is having to find new sources of income in a struggle for survival. We are no different. Your ongoing support will bring us closer to a sustainable future.
---