As tribal communities around the world fight for recognition of their traditional territories, one Maasai activist is being recognised for pioneering a new legal strategy founded on collective ownership
From the Andes to sub-Saharan Africa, indigenous groups are fighting for legal ownership of lands their ancestors have occupied for thousands of years – and in the rangelands of Tanzania, one activist believes he's found a possible solution.
Now in his forties, Edward Loure, a Maasai tribal leader and indigenous land rights activist, grew up in the Simanjiro plains. The almost seven million acres of verdant grasslands flank Mount Kilimanjaro in northern Tanzania, where communities of pastoralists and hunter-gatherers have lived off the land, in coexistence with migrating wildlife, for countless generations.
"Our land means everything to us. If we have no grass pastures, we will not have our cows, and without our cows, we cannot survive," Loure tells Positive News, speaking via Skype from Dar es Salaam.
Loure was today awarded the 2016 Goldman Environmental Prize for Africa – a sort of Nobel Prize for grassroots environmental activists – for pioneering a legal mechanism to preserve large expanses of ancestral lands in the Great Rift Valley, protecting both wildlife and a traditional way of life. The honour is, in part, a recognition of Loure's pioneering effort to link tribal land rights campaigns to conservation work, creating a model that others, in Tanzania and around the world, are eager to follow.
The savannahs and grasslands that Loure calls home are amongst the world's most spectacular landscapes, teeming with abundant and diverse wildlife, including gazelles, elephants, wildebeest, zebras, impalas and many other animals that keep the ecosystem in balance.
Traditional communities are a vital part of that ecosystem, Loure says. "The region is also enriched by our diverse and ancient cultures," he explains. "We depend on our lands and these lands have shaped our cultures and way of life."
But since the 1950s, when the Tanzanian government started creating a system of national parks, the region's tribal communities have been thrown into crisis. Thousands of indigenous people have been displaced, and the migratory corridors used by native fauna have been destroyed.
The situation has been exacerbated in recent years by government sell-offs of ancestral lands to hunting and safari companies, and by the encroachment of unauthorised "land grabbers" seeking to use traditional grazing lands for large-scale farming.
Loure's own community endured a similar fate in 1970, when it was forcibly displaced to create the Tarangire National Park. This inspired Loure to join the Ujamaa Community Resource Team (UCRT), one of the first community-led NGOs in Tanzania, which has championed sustainable development and community land rights for the past 20 years.
The UCRT, which Loure once led, had for years been using Tanzania's Village Land Act to help local village communities secure legal ownership of their land. The law, passed in 1999, is a powerful and relatively rare policy in Africa, granting small communities legal recognition of their customary tenure, and giving local leaders the power to administer tribal lands.
Still, protecting land under the Village Land Act is a slow and expensive process, and with land typically entrusted to individual owners, one that remains vulnerable to corruption and the realities of local politics. As a result, many areas supposedly protected under the act have ultimately been sold for farming and other purposes, putting significant pressure on the very communities the law is supposed to protect.
Looking for a better way to secure land tenure, Loure saw an opportunity in the strong communal culture among tribes. He worked with UCRT to have a key legal mechanism called Certificates of Customary Rights of Occupancy (CCROs) – the primary mechanism through which land is protected under the Village Land Act – made available to groups, rather than only to individual land-owners.
We depend on our lands and these lands have shaped our cultures and way of life
That opened the door to a string of important victories for tribal groups. Among the most notable was the decision, in 2011, to issue legal title to 20,000 hectares surrounding a village in northern Tanzania to representatives of the thousand or so remaining Hadzabe people. The Hadzabe have lived in the region for over 40,000 years and are one of the world's few remaining hunter-gatherer cultures.
Without collective legal title to the lands upon which they depend, such communities face extinction, Loure says. Now, however, groups such as the Hadzabe have the legal leverage to prevent incursions by safari companies, and to block agricultural development on tribal lands.
To establish group CCROs, Loure and his team work with local communities and the Tanzanian government to map land use – such as grazing zones, water points, wildlife migratory routes, or schools and communal areas – and establish key conservation areas. The protected territories are administered through bylaws and management plans, and overseen by village land-use committees.
"The CCRO is a great tool to protect … grazing areas from the threats of an increasing population density and poor local leadership," says Matt Brown, Africa conservation director for The Nature Conservancy. "If these areas stay open for livestock grazing, then the ecosystems remains more resilient, and wildlife has a better chance of success as it moves in and out of the unfenced national parks."
Over the years, at least 223,000 acres of Tanzania's northern rangelands have been safeguarded through CCROs. The UCRT, and its national and international partners, are now looking to replicate the model throughout Tanzania, with between 700,000 and 900,000 acres of grazing land ear-marked for protection by the end of this year.
Once their land rights are legally secured, communities can better access, manage and benefit from their natural resources, Loure says.
"Having a proper land-use plan and calendar help our animals to have access to secure pastures throughout all seasons, so our animals are healthier," he says. "And when our animals are healthier, our communities are healthier too."
Some communities are also generating extra revenues from carbon credits and carefully managed cultural tourism. To date, the Hadzabe people's CCROs have generated carbon credit revenues totaling almost £50,000 in payment for carbon sequestered in their forests – a meaningful sum in a country where GDP is less than £425 per capita.
Besides reducing carbon emissions, the protection of ancestral lands helps support biodiversity by creating significant wildlife corridors, preserving migratory routes across agricultural land, and reducing human-wildlife conflicts, says Brown.
"The UCRT team, under Loure's leadership, has done a fantastic job pioneering and proving out this approach to benefit people and nature in a changing environment in Northern Tanzania," he says.
The next step, Brown adds, is generalising the specific legal frameworks used by UCRT in Tanzania into broader land-rights concepts that can be deployed around the world.
"Every country has its own land policies," Brown says. "But the notion that we need to secure local people's collective land rights, and have it officially signed off at the national level, is replicable and is needed in other countries."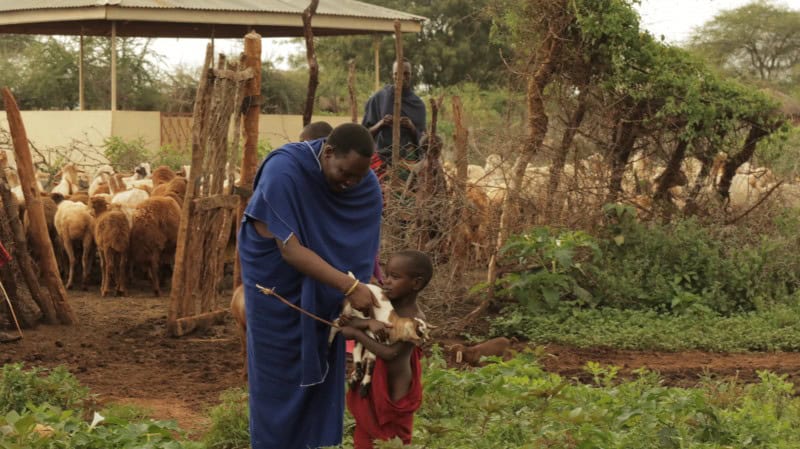 Photography: Goldman Environmental Prize
---
Edward Loure's guidelines for finding a fair and trustworthy safari company:
– Ensure the company's physical address and structure is within the host country
– Must have links to local people with evidence of the company's work on the ground with the communities
– Check that tour operators have good international reputation
– Cross check information (don't believe everything you read on the internet)
Recommended companies: Dorobo Tours, Mark Thornton Safaris, Tarangire Safari Lodge, Sopa Lodge and Elewana Collection Moivaro Lodge.
---
The 2016 Goldman Environmental Prize ceremony will be livestreamed on its YouTube channel, website and Facebook page from 5:30pm PDT on 18 April.