On World Kindness Day, we speak to the young people turning to charity shops and resale sites for a fashion fix that's kinder to the planet
Ninety-five per cent of Lottie Allen's wardrobe is pre-loved. "It's like a dressing up box," says the 19-year-old pink-haired fashion student, who describes herself as obsessed with vintage clothes.
One of Allen's all-time favourites is an Alice-in-Wonderland-style dress which cost £5 and is a staple she wears regularly. From Brighton's kilo markets and charity shops to trawling through Depop's vintage sellers online, Allen loves hunting for eclectic, timeless bargains.
"With second-hand clothes, you won't ever match anyone else. I can be really creative in my styling and express myself through what I wear, without breaking the bank. I love mixing different eras of vintage to create striking and contemporary looks with lots of colour, while imagining how they were worn originally," says Allen.
She is keen to break away from the never-ending fast fashion cycle: "Often people don't consider the environmental impact of how clothes have been made or where they'll end up once they've been worn, but upcycling and wearing pre-loved clothes is exciting."
Consumers are fast waking up to the environmental damage of the fashion industry, and finding ways to stay stylish that are kinder to the planet. Passing on unwanted clothes for someone else to use is something everyone can do to make a difference and reduce the impact on the environment.
Sustainable ways of purchasing clothes are becoming more mainstream in the UK
An estimated £30bn worth of unworn clothes sits in UK wardrobes, according to the waste watchdog WRAP, while 300,000 tonnes of discarded garments go into landfill or incinerators every year. On the other hand, WRAP's 2017 Valuing Your Clothes report estimated that a 10 per cent increase in second-hand sales could save 3 per cent carbon, 4 per cent water and 1 per cent waste per tonne of clothing.
"Sustainable ways of purchasing clothes are becoming more mainstream in the UK," explains Andrea Speranza, head of campaigns for fashion charity TRAID. The organisation launched its 23% campaign last year, so named because 23 per cent of clothes in London go unworn; the aim is to put 123m garments back into use through TRAID's collection schemes, charity shops and eBay store. Profits are used to fund projects that improve conditions in global fashion supply chains.
According to Speranza, TRAID has collected and redistributed more than 1m items of clothing, which has saved an estimated 412m litres of water, and 2,451 tonnes of carbon. Proof that shopping needn't cost the earth.
Globally, fashion 're-commerce' is on the rise, and it's young, eco-conscious shoppers who are leading this sustainable resale revolution. In a report published earlier this year, US-based ThredUP, the world's largest online thrift store, revealed that 18-37-year-olds are adopting second-hand apparel 2.5 times faster than other age groups. It also predicted that one in three Gen Z consumers would buy second-hand in 2019.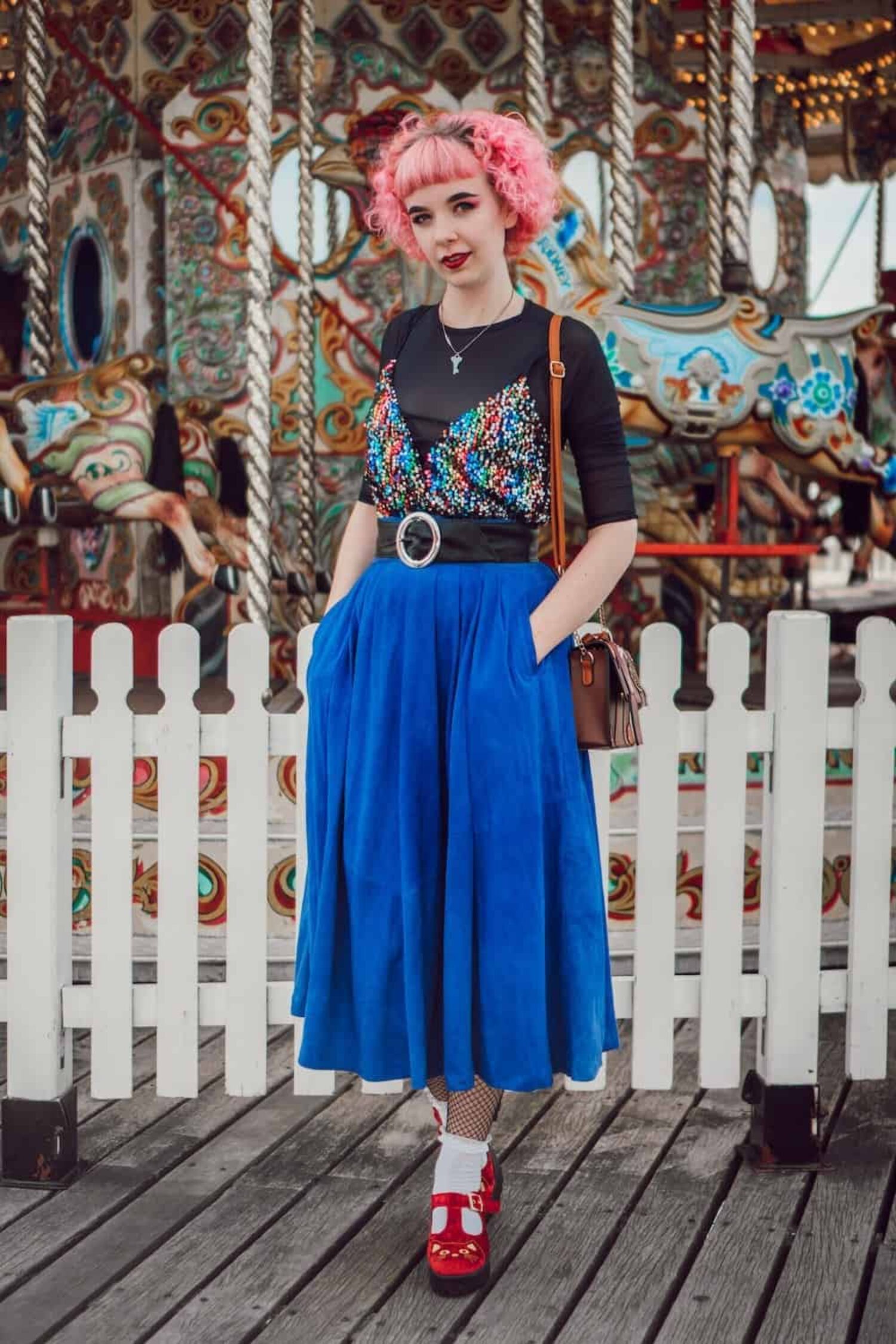 And back in the UK, there was a 22.5 per cent increase in buying second-hand clothes for environmental reasons, according to the Ethical Consumer Markets 2018 Report. Hannah Carter from the eco-fashion campaign #LoveNotLandfill says the sustainable fashion movement is gaining traction: "More and more young people are concerned about climate change and want to get involved, whilst still looking great in beautiful clothes."
The campaign's recent pop-up in central London featured collections from charity shops such as Oxfam and Barnardo's, curated by style-savvy influencers like Elizabeth Whibley and She Wears Fashion, alongside a clothes bank and repair station. There were also garments chosen and styled by sisters Bo (24) and Eve Brearley (21), who set up Past Trash five years ago. The duo now sell more than 300 items a week, mainly nineties and noughties clothes in the £15-£30 bracket to 14-25-year-old women, through the UK-based social selling app Depop.
We love seeing our customers resell items too – it contributes to a more circular fashion industry
Founded in 2011, Depop has evolved into a thriving community for more than 15 million stylists, vintage sellers and second-hand collectors in 147 countries. "Depop is the perfect mix of eBay resale and Instagram styling – each shop has a personality," says Bo. "When I was 14, my mum told me I could never make a career out of charity shopping, but that's almost exactly what I have done, and it's so much fun.
"We offer affordable second-hand womenswear that's much more curated than a charity shop but not as expensive as high-end vintage."
Ninety per cent of Depop's users are under the age of 26, according to the company, and Bo thinks more young people are becoming aware of the benefits of buying second hand: "It's great that things aren't being thrown away – every item sold is one less fast-fashion item being bought from the high street. Many of our customers have seen the news so they're consciously making a change to their spending habits. And we love seeing our customers resell items too – it contributes to a more circular fashion industry."
This article has been created by Positive News and supported by Simple, for World Kindness Day 2019.
Featured image: Lottie Allen, photographed by Miranda Allen