'Super crop' to be farmed near Scarborough can be used in food, cosmetics and biotech
Wave Crookes's job is dictated by the vagaries of the ocean, which makes his name particularly fitting. "They call it nominative determinism," he said, referring to the hypothesis that people gravitate towards jobs that fit their names. "I suppose I was always destined to be some sort of seafarer."
The former fisherman, deep-sea diver and RNLI lifeboat man, and his partner, Laura Robinson – a marine scientist – are in the process of establishing England's first commercial-scale seaweed farm. Occupying 25 hectares of open water, a few miles from Scarborough in North Yorkshire, their SeaGrown farm will harvest seaweed native to the region for use in food, cosmetics and biotechnology. In June, it received the backing of Scarborough Council: the cabinet committee said the authority would be a guarantor for £472,150 to SeaGrown Ltd from the Coastal Communities Fund.
Sugar kelp, oarweed and Atlantic wakame are the varieties that they will farm and hope customers will develop a taste for. The pair will also continue harvesting dulse, sea greens and sea spaghetti from the shoreline, under strict sustainability guidelines.
"We don't need land, we don't need power, we don't need freshwater and we don't need chemicals," said Crookes. "All we need is sun and the sea."
Though small-scale seaweed farms operate in Devon and Cornwall, Crookes and Robinson believe SeaGrown will be the first commercial-scale facility in England. Funded by a £472,000 grant from the UK government's Coastal Communities Fund, the farm is on course to cultivate its first harvest in spring 2020.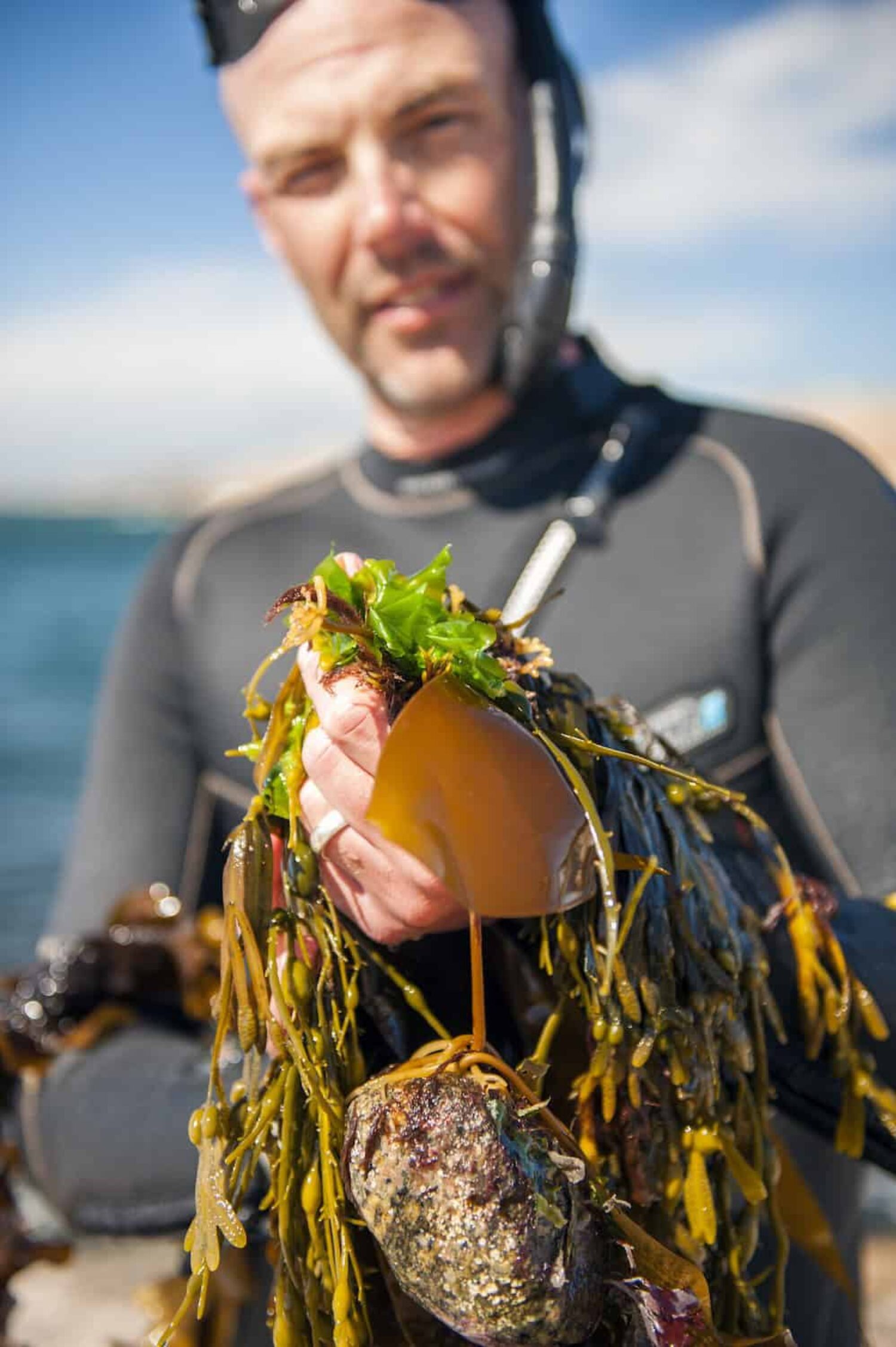 The timing bodes well, because seaweed is increasingly being seen as a potent weapon in the fight against two pressing problems: the climate crisis and plastic waste. According to a 2016 study, published in the scientific journal Nature, seaweed sequesters approximately 634m tonnes of CO2 per year – roughly twice as much as the UK's annual carbon emissions.
Seaweed is also being trialled as an alternative to single-use plastic. Instead of plastic bottles, runners at this year's London Marathon were given water-filled seaweed pouches, which they could eat or discard on the pavement guilt-free.
Meanwhile, the biofuel industry is exploring the use of seaweed in energy production.
We don't need land, power, freshwater or chemicals – all we need is sun and the sea
"The applications of this stuff are quite exciting," said Crookes. There's gastronomy too. Seaweed has been eaten in Asia in particular for centuries, but, as the health benefits of this so-called 'super food' become more widely known, there is a growing appetite for it in the west.
Seaweed cultivated at SeaGrown, which expects to eventually create 25 jobs, will start life as spores in a lab. Seedlings will then be transferred to the open water. "We are not taking anything from the ocean," clarified Crookes, who noted that the choppy North Sea is perfect for cultivating seaweed. "Tidal streams or wave action make it more robust."
There is one major obstacle: rough weather could wreak havoc on the farm. Crookes is philosophical about that: "Nature will do what it wants to do."
Featured image: David Troeger
Fed up with negative news? Can you help us?
The negativity bias in the media is holding society back. While it's important to report problems and hold power to account, we believe there is also a need for rigorous reporting on progress, possibility and solutions. We call this 'constructive journalism', and to keep doing it we need your help.
We know you want Positive News to benefit as many people as possible, so we haven't put up a paywall. We don't answer to and rely on a wealthy proprietor because, instead, we are owned co-operatively by 1,500 of our readers who joined our crowdfund in 2015. And we're not beholden to advertisers either, because we know that you only want to hear about companies that have a positive impact.
So, instead, we depend on you. Positive News is more than a magazine, it's a community of people who see and share the good in the world. We need your support to continue publishing our inspiring journalism and to set the example for other media to follow. It's quick and easy to contribute and you can support Positive News from just £1. Every contribution makes a vital difference. Thank you for helping us to change the news for good.