British flower growers report fresh demand for their home-grown blooms. We ask a Somerset-based florist and flower farmer: why is native flora gaining ground?
"It feels as though the world is all mine," says Georgie Newbery, describing spending early mornings in her flower patch. Packed with native English blooms, her fields hum with bees and butterflies at this time of year, while in the winter she watches charms of goldfinches feeding on the aphids that over-winter in the willow.
Together with her husband, artist Fabrizio Bocco, Newbery runs Common Farm Flowers in Somerset. When it all began 14 years ago, they didn't strictly decide to set up a flower farm but wanted to create a haven for wildlife.
"It had to be paid for – therefore, we run a flower farm," explains Newbery, with a smile. "Fabrizio's line, 'Look after the invertebrates and the rest of the food chain will look after itself,' is at the root of what we do here."
Bearing in mind that producing beautiful flowers wasn't their chief motivation, the pair are doing pretty well. As both growers and florists, their business uses about 250,000 stems of flowers every year. All are grown in the UK and include varieties that the huge international flower companies mostly avoid: the likes of wild buttercups, scented sweet peas, heavy-headed garden roses and delicate umbellifers that don't travel well out of water.
The global flower industry is a behemoth, with gigantic international firms flying planes packed with stems out of countries such as Venezuela and Colombia to serve the northern European and US markets. Aside from the air miles – the planes often fly back empty – the costs of growing the flowers are hefty: from the huge drain on often scarce water resources, to the dependency of local communities on monocultures. Because they are not designed to be eaten, authorities generally don't check flowers for pesticides, which may still be impacting growers, workers and ecosystems.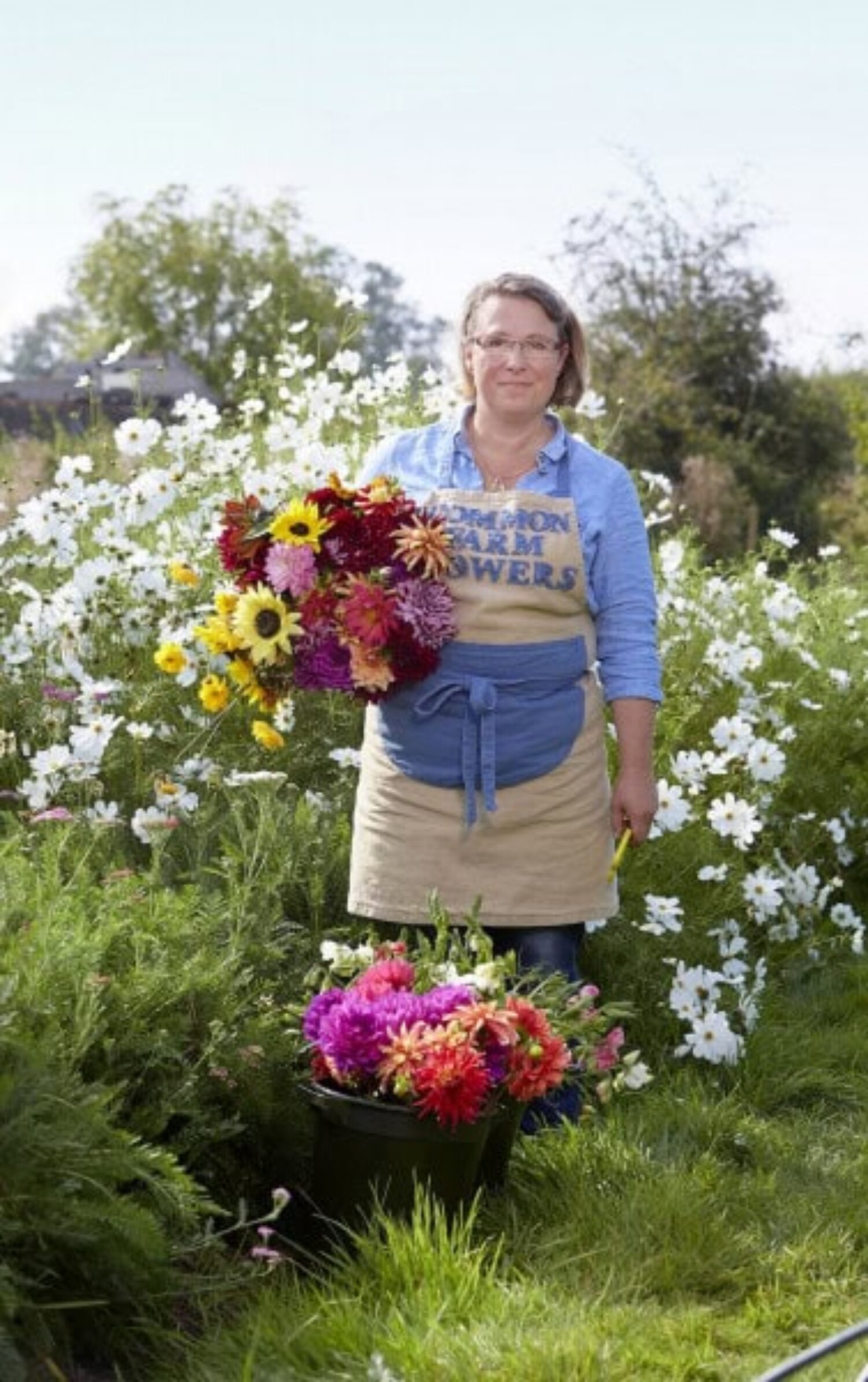 Newbery's dream is that everybody in the UK should be able to buy British-grown flowers all year round: that 'grown not flown' should be the norm on kitchen tables across the land. Slowly, the vision appears to be catching on.
Demand for sustainably produced native flowers is growing, partly because of people's desire for locally sourced goods, and partly due to a trend towards less formal wedding arrangements. With around 12 per cent of all flowers sold in the UK now home-produced, the National Farmers' Union is spearheading calls for 'provenance labelling', to help people better recognise which flowers are homegrown and to further increase this slice of the pie.
The renewed success of the so-called slow flower movement is also – believes Newbery – thanks to social media, which allows small businesses like hers to communicate directly with customers affordably, or even for free. Instagram is especially useful, because after all, "people buy our bouquets for their beauty – the fact that they are grown in the UK and help sustain our wildflower meadows and all the wildlife that come with them is the icing on the cake for the customer," she notes.
I love the scent of the flowers. I love their fleeting beauty. I love the fact that no two bouquets I make are ever the same
Common Farm's wildlife-first policy means a layout that is "unlike any sensible flower farmer's". The four areas that produce flowers for cutting are spread widely over a seven-acre patch to create diverse environments for wildlife to thrive, and to allow creatures to travel freely between patches. The couple keep wild bees, which they don't treat for varroa [parasitic mites], nor harvest their honey, and they maintain large areas of nettles to encourage butterfly colonies to set up home. While many flower farmers limit the varieties they produce per year to 15 or so, Newbery and Bocco grow nearer 250. "It keeps us on our toes creatively," she says.
They carefully avoid peat-based composts and growing in monocultures, and the approach appears to be paying off. "This week alone I've seen Cockchafers [May bugs], white butterflies and orange tips, grass snakes, enormous orange-bottomed bumble bees, toads, and – hunting the meadow – our pair of kestrels, known as Barry and Rose," says Newbery.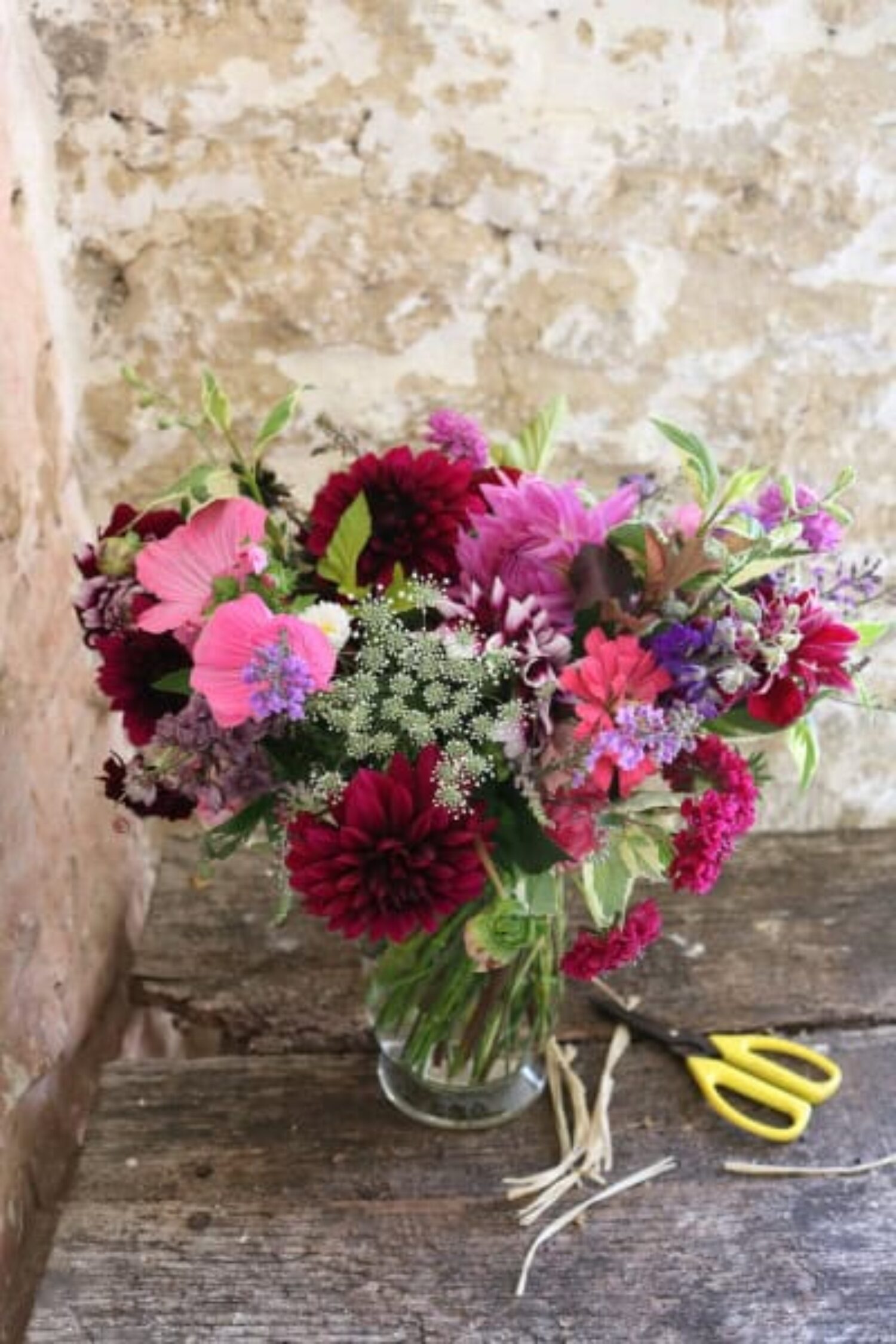 Keeping up with demand is tough work, especially when wedding season hits, and Newbery notes that she "won't retire a millionaire", but says the rewards go far beyond the financial.
"I love the scent of the flowers. I love their fleeting beauty. I love the fact that no two bouquets I make are ever the same and that whatever the seasons throw at us, there are always flowers to cut. I love that I don't commute or sit in an office all day or sit staring out of the window longing to get outside. As long as I keep going, I should be able to fight off osteoporosis and depression, as I do plenty of exercise in this job. The soil I dig apparently goes into my system when I breathe – it makes me happy."