In this fortnight's Good Business column Nicola Slawson talks to Pablo Spaull about the fine art of raw chocolate making and how he's using it to help protect the rainforest
Each fortnight, the Good Business column catches up with people who are leading social change. It's hosted by Impact Hub Islington, an incubation space in London for socially minded entrepreneurs.
Nicola: Tell us about yourself

Pablo: I'm a raw bean-to-bar chocolate maker. It's ethically sourced in Peru and minimally processed in Wales from my home kitchen using only three ingredients.
How do you make raw chocolate?
Well, to begin with the Ashaninka people, who are the indigenous tribe who live deep in the Peruvian rainforest, harvest the beans. Each area has different beans, much like wine. The ones we use are known locally as 'the Grandfather'. They are then fermented to develop flavour, and dried and shipped over here. That's where my work begins. Traditional chocolate makers would roast their beans as the first part of the process but I choose not to. I keep it raw to maintain all the antioxidants and nutritional benefits that raw cacao has. I stone grind the nibs of the bean with sugar into a paste. That's the alchemy. That's where the crossover of science and art takes place. It's about getting the ratios right and making it taste amazing.
Why raw chocolate?
I was introduced to it at a party and was made aware of its euphoric qualities. That really ignited the passion to find out more. I then probably tried every raw chocolate bar that was available. For research purposes, obviously! There weren't many around at the time, and they all had quite a grainy texture to them. Some of them were a lot nicer than others, but some were quite frankly revolting. So that's when it became apparent that something needed to be done. I wanted to bring raw chocolate up a level to a standard where anyone would be able to enjoy it and say "this tastes amazing, and wow, it's doing me good!"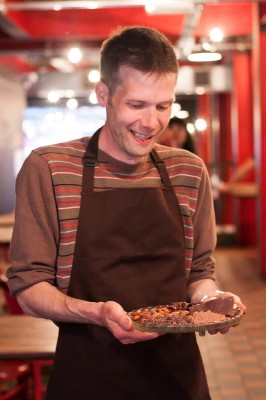 What made you turn it into a business?
The feedback from friends was so positive that it had to become a business really. But also, I've got access to these beans and I feel like I can't not do it. It's a global and social responsibility as much as a pleasurable thing to do.
My connection to the rainforest is that I'm a friend of Dilwyn Jenkins who wrote the Rough Guide to Peru and has a charity called Ecotribal. He also works closely with rainforest protection charity, Cool Earth. Dilwyn has been sourcing coffee for 20 years and he told me they grow cacao too. Fast-forward five years, and we've finally got the supply chain established. We've educated them about fermentation techniques and drying. They value the bean a lot more now.
By them selling the cacao to us, it helps safeguard the rainforest. Indirectly we're helping stop deforestation because they don't sell their trees to the loggers. We are paying them more than they would get in the long term. If cacao, banana, papaya, coffee and all the other natural flora and fauna can grow, then they've got a sustainable income. If they cut the trees down, then that's it, they've gone!
Where do you see your business in five years' time?
I see Forever Cacao having a few more bars in its range. I really want to experiment and to get as much out of the grandfather bean as I can.
But I'd also like to establish Forever Cacao as the raw bean-to-bar chocolate making experts. We're getting there. I've just been commissioned to make chocolate bars for Vivienne Westwood's fashion show in London.
Overall, I want to redefine raw chocolate and raise nutritional awareness. We've been brainwashed into thinking chocolate is bad for you. We're told: "It's a treat, but you shouldn't enjoy it." That's rubbish! You can enjoy it, and it is good for you.