Most agree that banks should keep our money safe and avoid unnecessary risk. But is the sector capable of much more than avoiding leading us into another financial crash?
With greed and excess looming large in our collective imagination, the public's opinion of banking could not get much lower. Lord Adair Turner, former head of the Financial Services Authority, struck a nerve when he described much of what banks do as "socially useless".
Despite widespread condemnation of dodgy tactics in the wake of the 2008 financial crash, consumers are used to hearing less than positive revelations from the sector. If the banking industry is not rigging interest rates or insider trading, it's sheltering drug money. And while taxpayers' money has bailed banks out when things go wrong, bankers have continued to pocket eye-watering bonuses.
It's easy to forget that banking is supposed to be a force for good. The sector is designed, depending on your perspective admittedly, to put money to work in the most efficient way while minimising the risks to society as a whole. Banks are meant to be our servants, not our masters.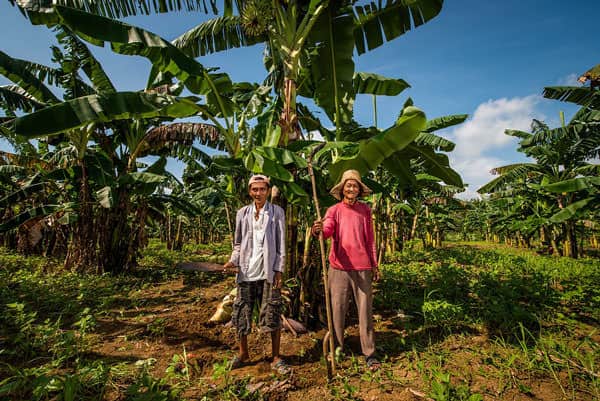 Mainstream banks have lost their focus on meeting customers' needs, believes David Korslund, senior adviser at the Global Alliance for Banking on Values (GABV). "Some 20 or 30 years ago, banks were truly focused on clients, but the reality is that now they are focused on making money. This is inherently corrupting of the process. The connection with the aim of meeting the needs of society is lost."
---
Reasons to support Positive News
#4: It's owned by the people 
Instead of being owned by a media mogul, Positive News is owned by the many. We are a community benefit society (a form of co-operative) accountable to our readers, and any profit we make is reinvested in our journalism.
---
But it doesn't have to be like that. One sector leader is Triodos. "Most people think that banking is pretty boring," says managing director Bevis Watts, the first environmentalist to be appointed to a lead executive role at a UK bank. "Customer satisfaction rates with high street banks are low and yet people are far from disengaged. I know so many people who spend endless energy trying to improve their community or their environment. Whether it's volunteering, donating or advocating – they have a spark in them to help build a better world. Through my role at the bank, I get to meet amazing, passionate, energetic people who are doing just that.
"What if we could help people see that where they choose to bank really can bring these dreams closer to reality? What if your bank was using your deposits, alongside the deposits of thousands of others like you, to funnel vast quantities of money into the things you care about? What if, rather than profit-seeking, your bank's mission was to finance the initiatives that would help enact the change you want to see? Banking isn't so boring any more, is it? This type of revolution in banking could really make our world better."
What we do with our money is really a vote for our values
In 2015, Triodos used customers' money to create more than 33.6m meals from organically farmed land and green electricity for a million households. The really exciting thing, says Watts, is how this impact multiplies.
"Take renewable energy: for each customer, we financed enough green electricity for 1.7 homes. As a result, our customers have an impact that is much bigger than their own carbon footprint. Positive banking can be the tipping point for real change.
"What we do with our money is really a vote for our values. In a world where financial and political systems are seemingly failing us, banks like Triodos offer an opportunity to create change on a different scale. This movement could revive the true purpose of banking: to put our money to work in ways that serve us and create a future society we will prosper in."
The GABV has 36 members across the world that are focused on using money to deliver social good, not simply to make money. GABV members collectively have more than 24 million customers, some 42,000 employees, and hold up to $110bn (£8.7bn) 'under management'. Ironically, this is the same sum paid in fees by the largest banks in the US for inflating the mortgage bubble that helped cause the financial crisis of 2008.
GABV members sign up to a triple bottom line approach: people, planet and prosperity. The 'people' part includes projects in areas such as financial literacy and education. The 'planet' projects are in areas such as clean water, organic farming and alternative energy, while the 'prosperity' theme usually relates to promoting economic self-sufficiency and the creation of jobs.
"Rather than put finance at the centre of the model, we put people at the centre and find ways to deliver these services to clients in a way that is financially sustainable," says Korslund.
Another bank putting the GABV's values into practice in the UK is Charity Bank. The bank lends only to charities and social enterprises. "We exist to provide finance, support and advice to organisations with a charitable purpose and the values that we operate by flow from that," confirms CEO Patrick Crawford. "People borrow from us because we share their values, understand their organisation and are there for the long term."
People borrow from us because we share their values, understand their organisation and are there for the long-term
The ethos means the bank does not pay any bonuses to staff and carefully measures the social impact of its loans.
"Charity Bank saw us as a partner in doing good, rather than just a customer from whom they could make money," says Alan Fraser, chief executive of one of the bank's clients, YMCA Birmingham. The charity used a loan from the bank to help build a block of 34 apartments for 16 to 25-year-olds. Charity Bank reports strong performance, with growth of 26 per cent in 2015 and more than 20 per cent expected by the end of 2016.
One of the defining characteristics of ethical finance is a focus on transparency. In contrast to many mainstream banks which often hide behind a wall of financial jargon, companies with a more ethical bent tend to be extremely open about where people's money goes.
Ethical banking in context
Zoom out, and the ethical finance movement appears to slot into a wider trend. Consumers now seem much more interested in the provenance of products. Consider the success of organic food, for example. The Soil Association said UK sales of organic products rose by 4.9 per cent to £1.95bn in 2015 while sales of non-organic food dropped by 0.9 per cent. And there was also growth in four of the five main Fairtrade categories – coffee, tea, bananas and cocoa – in 2015, despite generally tough conditions in the grocery market.
On the other hand, we witnessed the travails of companies such as Volkswagen after the 'dieselgate' scandal in which the company was found to have cheated pollution emissions tests in the US. And one of the oldest banks in the US, Wells Fargo, faced political and public furore when it was found to have opened millions of accounts in customers' names without their knowledge. While ethical investment funds count for only £16bn of a market of around £4tn, it's important to note that some mainstream banks are doing good things too. Dutch bank ING has committed to finance €35bn's worth of what it calls 'sustainable transitions' by 2020, and Barclays has pledged to issue £1bn in green bonds.
This movement could revive the true purpose of banking: to put our money to work in ways that serve us
Ethical banks bring investors closer to the projects that they fund. Investment company Abundance, for example, offers peer-to-peer investment in clean energy projects such as a partnership between Swindon Council and the community to fund a 4.8MW ground-mounted solar farm that will supply enough electricity to power 1,200 homes. As well as offering a six per cent rate of return for 20 years, the project is set to help finance a sound barrier between a road and nearby houses that the council was previously unable to fund.
Organisations such as Ethex, a 'positive savings and investment platform', and the Social Stock Exchange – which calls itself the world's first regulated exchange for businesses and investors seeking to make positive social and environmental impact – offer another way to invest directly in companies with a social purpose.
There is an expectation that focusing on people rather than profits inevitably means sacrificing returns but Korslund insists that this is not true. "We compared the results of our member banks with those of the largest banks in the world, those that are seen as too big to fail," he says, "and the data shows that our members' financial returns are better and less volatile. So we are delivering not just social goods but financial performance as well. It's a myth that the largest banks in the world, with their focus on providing shareholder value, actually deliver that. They don't."
Perhaps banking – ethically – really isn't so boring after all.
Triodos Bank is a Brands of Inspiration partner of Positive News and supports our journalism. This article was created independently by Positive News.
---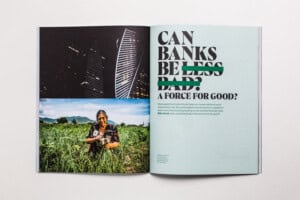 This feature is from issue 88 of Positive News magazine
Be informed, be inspired. Become a Positive News subscriber member to receive our magazine delivered to your door, plus access to exclusive member benefits.